Women's Fall Boots – Get Trendy and Stylish for Fall

Stepping into Autumn Fashion
As the leaves begin to change and the air becomes crisp, it's time to revamp our wardrobes for the cozy and stylish season of fall. One staple item that every fashion-forward woman needs in her collection during this time of year is a versatile and chic pair of women's fall boots. From classic designs to trendy twists, there's a boot style to suit every taste and occasion. In this blog post, we'll explore some of the must-have women's fall boots for the season.
1. Classic Knee-High Boots
There's a reason knee-high boots never go out of style. These timeless pieces can effortlessly elevate any fall outfit. Whether you opt for leather, suede, or a combination of materials, knee-high boots add an element of sophistication to your look. Pair them with jeans, skirts, or dresses for a timeless and elegant appearance that's perfect for everything from a day at the office to a weekend brunch.
2. Stylish Ankle Booties
Ankle booties are a go-to choice for women who want a versatile and comfortable option for the fall. Available in various heel heights and designs, ankle booties can be worn with almost anything in your closet. Slip into a pair of suede booties for a casual day out or choose sleek leather ones for a more polished look. They effortlessly transition from day to night, making them a valuable addition to your fall shoe collection.
3. Statement Animal Prints
If you're feeling adventurous and want to make a bold fashion statement, consider adding animal print boots to your wardrobe. Snakeskin and crocodile patterns were particularly trendy in recent years. These boots add an unexpected edge to your ensemble, whether you're wearing them with a monochromatic outfit or using them as the focal point of your look.
4. Combat Boots with a Twist
Combat boots have been a fall favorite for some time now, but in recent years, designers have given them a modern twist. Think chunky soles, metallic hardware, and unexpected colors. These boots offer a mix of edginess and style, making them perfect for adding a touch of rebellion to your fall attire.
5. Western Flair
Channel your inner cowgirl with a pair of western-inspired boots. Pointed toes, decorative stitching, and cowboy-style details create a unique and fun look. Whether you're headed to a country concert or just want to infuse some western charm into your urban style, these boots are a fantastic choice.
6. Lug Sole Boots
Lug sole boots have been gaining popularity for their practicality and on-trend aesthetic. These boots feature chunky, heavily textured soles that provide both style and grip. They're ideal for navigating wet and slippery fall terrain while looking effortlessly chic.
7. Slouchy and Relaxed
For a more relaxed and casual vibe, consider slouchy boots. These boots, with their relaxed fit, exude comfort and style. They're perfect for a laid-back weekend look, and they can be paired with jeans or a boho-chic dress.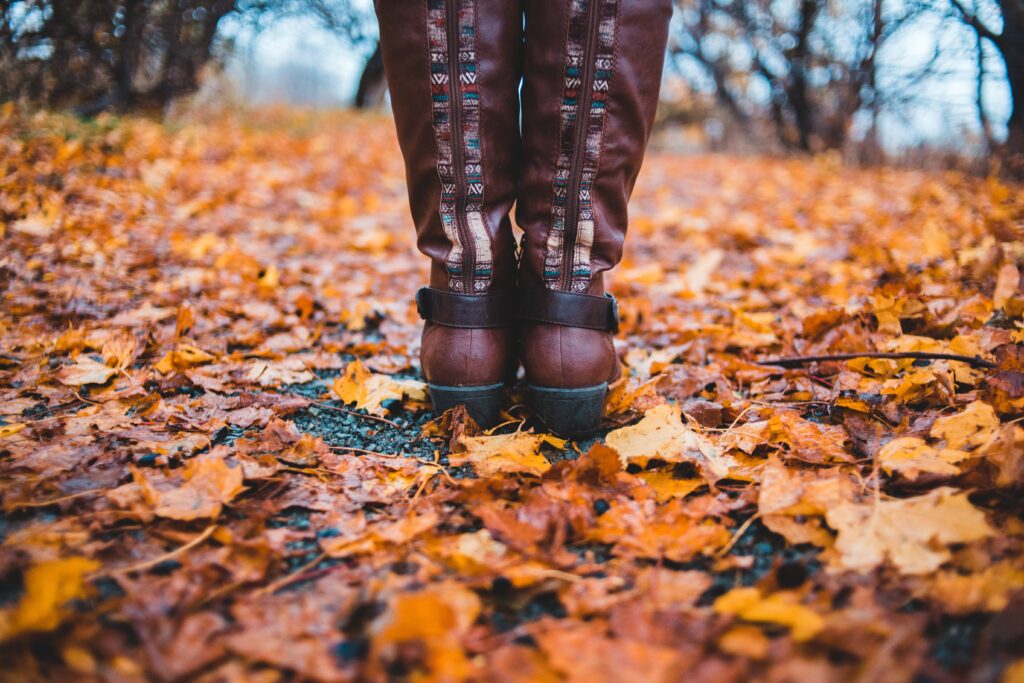 Fall boots are more than just functional footwear; they're a statement piece that can elevate your entire autumn wardrobe. Whether you prefer classic knee-highs, trendy ankle booties, or bold animal prints, there's a boot style to match your personality and fashion preferences. This fall, step out in style and embrace the changing season with confidence, one fashionable step at a time.